Monday, 01 November 2010 08:16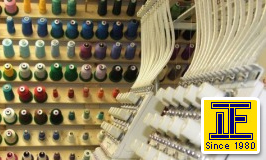 Embroidery of Tshirts are highly popular for embroidering but can pose some problems for design selection, hooping and stabilizing. Here are some tips to make your embroidery successful
Tshirt Selection: Select a good quality t-shirt. Old, nearly worn out tshirts are not suitable candidates for embroidery. Machine embroidery designs are typically stitch intensive and stabbing a fragile fabric with a needle multiple times can result in fabric damage instead of fabric embellishment. Pre-washing to shrink the tshirt before embroidering will result in better embroidery.
Design Selection. Keep designs on the light side. For large area designs, appliqués are a better option. Heavy, stitch-intensive designs are not suitable for lighter weight fabrics. Try to match the "weight" of the design with the fabric. Lighter, thinner fabrics need lighter stitch count designs; heavier, thicker knits can support heavier designs.
Stabilizer Selection: Knits need a cutaway stabilizer for adequate support. For t-shirt weight fabrics, I recommend using a heat fusible no-show mesh cutaway. These are light-weight. won't negatively affect drape of the fabric, and will stand up to stitches without perforating and therefore compromising fabric stability. Press a piece of cutaway to the back of the knit; avoid stretching or distorting the fabric. Make sure the stabilizer is at least slightly larger than the hoop.
Hoop the stabilized fabric along with a piece of tearaway between the rings of the hoop. The fusible backing will prevent stretching during hooping and shifting during sewing. Most fabrics should be hooped without stretching or distorting the fabric in the hoop. Exception: Knits that are designed to be stretched when worn (like leotards).
Embroider the design. If you're using standard embroidery thread, you can use a 75/11 embroidery needle. Always use the smallest needle that can carry the thread through the fabric without damaging the thread, fabric, or the needle.
Finishing. Tear off tear-away stabilizer, peel up cut-away and trim away, leaving about 1/4 inch around the design, making sure to round off any sharp points or corners.
In the event that you still encounter problems on getting a nice embroidery t shirt done, you can always consult and seek advise from Imprinted Express , who are experts in express embroidery .