Singapore T-Shirt Printing Company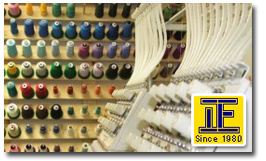 Imprinted Express is a Singapore based tee shirts printer.  It is the leader in embroidered emblems and T-Shirt Printing since 1980.
We manufacture and supply custom t-shirt printing locally and regionally. We carry a wide range of garments and our variety of print products include T-shirts, polo shirts, hooded tops, sweatshirts and caps.
Imprinted Express always takes pride in its ability to produce high quality printed deliverables. Our list of satisfied customers include many multi-national companies. Reliability in our ability to meet tight deadlines makes us a preferred t-shirt printing company in Singapore. In fact, rush orders are our specialisation.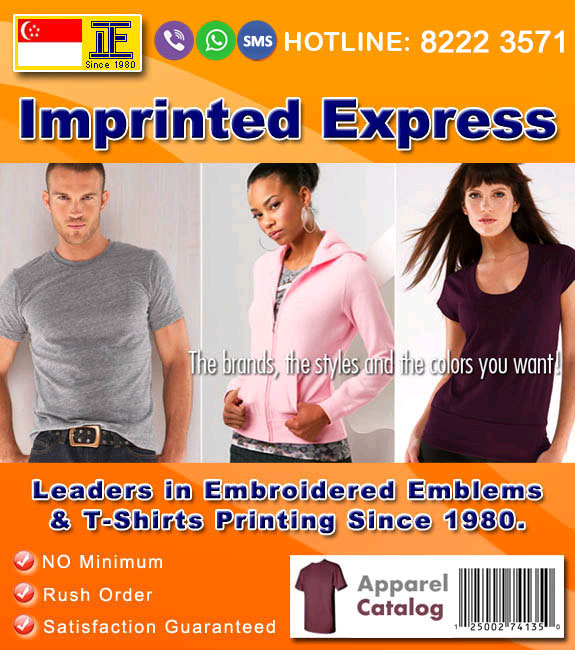 One of the reason why we are popular among our clients is our policy of NO minimum order required to undertake any t-shirt printing job. This gives our customers great flexibility in planning their printing orders.
With our promise of our efficiency and fast turnaround timeline, you can be assured of a timely delivery for your printed T-shirt, polo shirts or cap orders. And we always believe in offering competitive rates and value to our clients.
For your next printing needs, call Imprinted Express, one of the most reliable t-shirt printing company in Singapore.
Customer Testimonials
Hi Herbert,
I just wanted to say how grateful I am again for your express service in getting all our 52 T-shirts printed perfectly well in record time! You are our lifesaver! It is unheard of in other places to have shirts printed under 3 days, let alone 1 day which you could also offer!
My last vendor caused us the delay as he had taken 3 weeks and in the end produced nothing, claiming he had issues with his printing supplier. We were left in a limbo, and tried calling a couple more vendors to quote but to no avail, until we found your company.
Unlike the others, you are helpful, reliable, assuring and trustworthy. You also have a team of experienced and polite staff which makes the customer service experience a pleasant one. I am very satisfied with the t-shirt quality and the printing on them, and delighted with the service given such short turnaround time.
Thank you for delivering your promise and exceeding our expectation. We will always recommend you to any friends who require printing services!
From Winkie
Dear Herbert & Susan,
Imprinted Express is indeed an express.
I appeared on one Friday afternoon at Imprinted Express to make a hoody for my cheerleading team. I was apprehensive at the start mainly because I have never worked with Imprinted Express before. However, as I began showing them the designs and told them about my expectations, I was pretty impressed by their professionalism and their generous comments. They were sincere in helping us come out with the best design. So we left our deposit and left, expecting to come back 2 weeks later for collection. Mr Gwee's phone call a week later caught me by surprise and much euphoria. The hoodies are done!And we were very surprised at the speed or better, efficiency. Nonetheless, we were still worried, again because we have never worked with IE before. HOWEVER, The hoodies were impressively nice and totally up to expectations. Their professional guidance as well as their efficiency indeed impressed me, IE is indeed trustworthy and efficient which is worth your every cent. Absolutely worthwhile! Thank you Imprinted Express!
Best Regards
Wei Ting
Dear Mr Herbert,
On behalf of Secondary 3 Generosity, I would like to thank you for printing our class shirt so beautifully! It certainly is stunning and we all love it! We would like to thank you especially for working so hard to ensure that we received it on time. You were extremely helpful and kind, and put in a lot of effort in printing our shirt! Once again, thank you so much!
From Joanna Tan
Thank you Herbert for the additional value you have added. You advised me on choosing the suitable fabic and suggested the right colours to match the design which I have created. I had given you a tight schedule but you took it all in your stride and even delivered earlier than agreed! You have far exceeded my expectations with all you have done within a reasonable budget. I would highly recommend your services and look forward to working with you on my next project as it comes along!
From Daniel Yong