Singapore Embroidery and Silk Screen T-Shirt Printing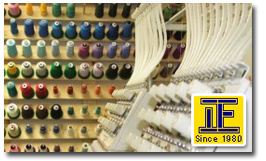 Imprinted Express T-Shirt Printing & Embroidery specialized in USA T-Shirts since 1980. We decorate these T-shirts at affordable prices.
With the Pandemic we are operating from Monday-Friday 10.00 am-7.00 pm.
Our American Apparel T-shirts with silk screen printing are flying at budget prices. There are 39 colors. The minimum order is 30 pieces. American Apparel fine jersey t-shirts are 100% ring spun preshrunk cotton and slimmer fitting, made lighter and softer yet more durable than the regular heavier cotton t-shirts. Please order these early to collect on time and ask for FREE Authentic Champion Caps.
We have the widest collection of T-Shirts and the One that stands out is the New 100% Natural 100% Biodegradable Amazing Fit Softest and Most Value Added Eco-Cotton T-shirts and Polo Shirts at Promotion Prices. Please visit to see the samples.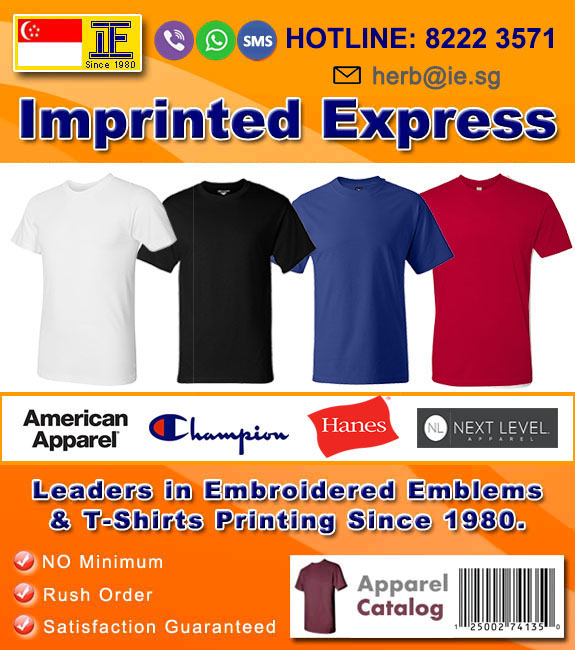 Excess Black & White T-shirts for Tshirt Printing at Clearance prices.
Imprinted Express
[email protected]
8222 3571
Customer Testimonials
A Satisfied Customer
Hi, I'm interested to get about 30 of your t-shirts with custom printing. But before I confirm, can I come by and check quality? I'm specificaly interested in American Apparel / some other quality brands. (May 4 2019)
Hi, I'd like to request a quotation for 20 of your super soft eco-hybrid t-shirts, in black. I need them to be ready by Friday May 17. (May 9 2019)
Hi Herbert, everyone liked the t-shirts so much that we will need to produce more:) Can you give me a quote for 100 shirts? Delivery in 2 weeks. (May 24 2019)
Hi Herbert, we'd like to order a few more t-shirts please. Can we have 20 please? (July 15 2019)
Irina
An Amazing Service
Hi Herbert,
Thank you so much for your amazing service, couldn't be more pleased with the efficiency at which you got our shirts printed. I'm truly grateful that you accepted our rush order (of only less than a day's worth of time), gave us an extremely good rate and even had the shirts delivered to us. Once again, thank you for giving your utmost best and putting your customers first!
Appreciate it!
Joylynn
Greetings Herbert
I would like to say a big, huge THANK YOU for the help you rendered towards me & my church in printing the caps & tee shirts.
They were given out as prizes & those present at the event went "WOW" about them, prompting them to want to win the prizes.
Your helpfulness & prompt delivery of the items have helped to make our inaugural event a SUPER success.
Once again - Thank You & may the Good Lord blesses you & your business & prospers you.
God Bless
Anne Wee
Dear Herbert & Susan,
Imprinted Express is indeed an express.
I appeared on one Friday afternoon at Imprinted Express to make a hoody for my cheerleading team. I was apprehensive at the start mainly because I have never worked with Imprinted Express before. However, as I began showing them the designs and told them about my expectations, I was pretty impressed by their professionalism and their generous comments. They were sincere in helping us come out with the best design. So we left our deposit and left, expecting to come back 2 weeks later for collection. Mr Gwee's phone call a week later caught me by surprise and much euphoria. The hoodies are done!And we were very surprised at the speed or better, efficiency. Nonetheless, we were still worried, again because we have never worked with IE before. HOWEVER, The hoodies were impressively nice and totally up to expectations. Their professional guidance as well as their efficiency indeed impressed me, IE is indeed trustworthy and efficient which is worth your every cent. Absolutely worthwhile! Thank you Imprinted Express!
Best Regards
Wei Ting
Dear Mr Herbert,
On behalf of Secondary 3 Generosity, I would like to thank you for printing our class shirt so beautifully! It certainly is stunning and we all love it! We would like to thank you especially for working so hard to ensure that we received it on time. You were extremely helpful and kind, and put in a lot of effort in printing our shirt! Once again, thank you so much!
From Joanna Tan
Thank you Herbert for the additional value you have added. You advised me on choosing the suitable fabic and suggested the right colours to match the design which I have created. I had given you a tight schedule but you took it all in your stride and even delivered earlier than agreed! You have far exceeded my expectations with all you have done within a reasonable budget. I would highly recommend your services and look forward to working with you on my next project as it comes along!
From Daniel Yong